...my Etsy shop,
A Thousand Echoes
! Lots of stuff is up and more is on the way, so check back often!
Thanks so much to everyone who answered the poll...it helped so much to know what people are interested in buying! And if you haven't answered it yet, feel free to offer your input.
And if you like what you see and would like to help me advertise, just copy and paste the code underneath the Etsy sidebar and it will display this picture: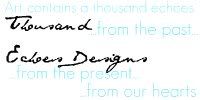 with a link to my shop.